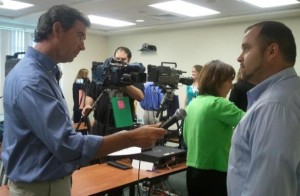 "I was unable to get any attention from the media, but Ray Collins stepped in and was able to get a project of mine on the local news and in the local newspaper almost immediately." -Andre Kasberger, Entrepreneur.
"I hired Ray Collins as a media consultant. He has contacts at all the TV stations and newspapers in the region. He has gotten me more publicity than I thought possible, and he also did a series of profiles of my staff that has created excitement at the salon. If you are an entrepreneur and/or own a business, reach out to Ray Collins." –Derek Donovan, Derek the Salon, Burns Court
"It pays to have friends like Ray Collins. I mentioned my situation with the city to him and one day later every TV station and newspaper in Tampa and Sarasota called me! The man is well connected!"
–
Tammy Hauser, Discover Sarasota Tours
For clients inside–or outside the Sarasota and Manatee area– Ray Collins Media can help get you or your company on TV. He has successfully gotten national coverage for clients who previously couldn't get past the reception desk. Ray has experience and contacts around the country.
Ray was on the receiving end of hundreds of pitches and press releases over the years. He knows first hand what resonates with reporters–and what gets ignored.
Ray knows how to speak to the Assignment Desk Managers and can cut through the clutter. He has credibility and knows how to pitch a story to make it newsworthy.
There are no boring stories, just boring story-tellers. It's all in the presentation, the jargon and the credibility. "You'd want your CPA to have worked in the IRS" so wouldn't you want a publicist to also have the answer key–as in a lifetime working IN the newsrooms?
Whether it be spreading good news, or dealing with crisis communications, let Ray Collins Media handle the crush of media. Arranging press conferences, writing and distributing press releases or serving as a spokesman, we can do it all at a fraction of the cost and with twice the efficiency of a major agency.