July 2021: Quiet month for media and travel writing–but busy with real estate:
I helped FIVE clients close on condos or houses in July–two on Sarasota's Bayfront in the Essex House ($690,000,) Vintage Creek ($530,000), Palma Sola Bay Club ($450,000) and Las Palmas near The Meadows ($251,000).
Here's a new listing I have of one of the few houses around South Palm Avenue in Downtown Sarasota. Don't miss the blooper at the end!
June 2021: Received a surprising and welcome text from my 'boss' at Coldwell Banker. He wrote, "Congratulations! For the first six months of the year, you came in 8th of 145 agents in our office for Gross Commission Income." Shocked. Gratified. Humbled. Didn't think I was doing anything more than anybody else. Just plugging away, seven days a week (!), helping people reach their real estate goals. Sounds cliche, but it's true.
Last year a friend came to me, asking if I would do a mini-documentary on his comeback. Greg used to do mini-triathlons, bring 'uniquely-abled' passengers along the way. I began monthly updates on camera with him, culminating in a race in June on Siesta Key. He lost 40 pounds, and swam with Jesse in a kayak behind him, he biked with Tyler in a cart behind him and he ran with Nadia in a carriage in front of him. Grab a Kleenex and watch this:
May 2021: As the world starts spinning again, more events–and more requests to be Master of Ceremonies: I had a ball hosting several events for the inaugural Remington Reynolds clothing line's golf & tennis kick-off at the Longboat Key Club. Also enjoyed being emcee AND video producer for a party at the Bird Key Yacht Club honoring my friend Jackie Bohanon who won a nationwide contest for 'best tennis coach.'
Erin and I took two trips in May: Visit Tallahassee hosted us at the DoubleTree by Hilton for a few days of fun. Then on the way back south, we stopped for a night at the Plantation on Crystal River courtesy of Citrus County. Had fun swimming with manatees. I'll write articles for each client and you can read them under the "Articles" tab. (Attaching a picture below of sunset on Crystal River.)
The following weekend we drove down to Naples so I could host the Women's Pro Tennis Tour at the Bonita Bay Club. I handle the announcing and work with Southwest Florida TV stations on coverage. I began my TV career in that area 30 years ago–and it's always nostalgic and familiar to return.
My role as an elected official on the Sarasota County Charter Review Board is heating up fast. We have a big issue coming up for a vote in October involving whether to ask the voters again whether they want to stick with single member districts–or vote for all five commissioners from University Parkway down to North Port.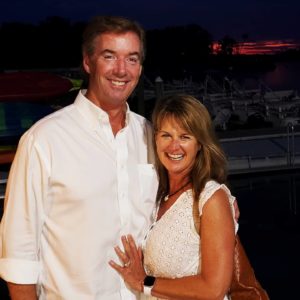 April: 2021: The real estate market is red-hot right now–and I've had some interesting stories:
*A friend asked me to sell his $3.3 million dollar house on the water.
*A college friend asked me to help her buy a condo on the bayfront.
*Some people in Buffalo saw my real estate billboard near the airport and came down to house-shop with me on Longboat Key.
So far this year I've been involved in 15 transactions totaling over $4 million dollars. $4 million more is pending for May. The trick is to not get too giddy–knowing the market, like life, is cyclical.
Also produced two very different videos this month–one U.S. Rep. Greg Steube who asked me to do a 'story' on people staying home with government checks and not returning to the workplace. The other video was the other extreme–helping Derek the Salon showcase their latest approach to styling hair. Never a dull moment.
In other news, Erin and I had a nice trip to Tampa to write an article about the newest hotel in that cool city. The Aloft Midtown Tampa is at the epicenter of a new half-billion dollar 'multi-use' district called "midtown" near Dale Mabry Avenue and I-275–not far from the Tampa Bay Bucs' stadium. Here's a picture near the rooftop restaurant:
March 2021: Found out I was ranked #11 in Southwest Florida among all Coldwell Banker agents for productivity in February.
Produced several videos for real estate and nonprofits. (Look under Video Projects tab.)
Went to South Tampa to do an article for Family Beautiful Magazine on the Epicurean Hotel on South Howard. Had a great weekend in Hyde Park. (Articles tab.)
Happy to report I'm seeing an uptick in requests from event planners. I was master of ceremonies for two similar events in March:
The Sarasota High School Football Boosters Club organized an event to mark the end of the football field's grass. The district will convert it to astro-turf.
The Plantation Country Club in Venice allowed me to host an event marking the end of its stadium court. (It's being converted into a pickelball court.) Some rising stars at IMG came down from Bradenton to wow the members. This was sentimental for me, since my late father and I competed in many tournaments and matches on those courts starting in the mid-80s.
February 2021: Was honored–and shocked–to be tied for first in my Coldwell Banker Real Estate office for MOST PENDING SALES for the month. (140 Realtors!)
Moderated a panel discussion in Lakewood Ranch featuring local U.S. Representative Greg Steube and visiting U.S. Representative Devin Nunes. Rep. Nunes is the Ranking Member of the House Intelligence Committee.
Produced a video for the Sarasota Prostate Initiative. The group "Man to Man" held a seminar in the picturesque courtyard of The Ringling Museum and brought in oncologist Dr. Dwight Fitch for an educational discussion.
Family Beautiful Magazine set up on a nice trip to Feathersound between St.Pete/Clearwater for a review of a new place called "The Karol Hotel." It's named after the developer's wife! Here's a picture before dinner from the rooftop bar:
January 2021: Went on two trips as a travel writer for Family Beautiful Magazine: One to The Inn on Fifth in Naples and the other to the Barbary Beachhouse in Key West. Both excellent destinations.
Produced a video for a Sarasota-based financial advisory called The Otto Group at Hightower Advisors.
Also helped buy or sell SEVEN condos in January with Closings set for February.
December 2020: Sold nearly $2 million dollars in property and still listing 7 other homes and a hotel.
Had a great weekend at the Compass Hotel on Perico Island in Manatee County.
Produced several videos–including a TV commercial for a housing development in Orlando for Sarasota-based One Stop Housing.
Attended a 'red carpet' opening for the new restaurant in the Waterline Villas & Marina on Anna Maria Island. Here's a picture:
November 2020: Politics…travel writing…hosting…and real estate this month:
Happy to report I had my biggest real estate transaction: Sold a nearly $1.3 million dollar condo sale on South Palm Avenue in downtown Sarasota. Erin said, "Just in time for Christmas!"
The Pines still held their annual "Wit & Wisdom" event at Michael's on East and I was honored to once again be the Moderator of a panel discussion. The only thing missing–400 people in the ballroom. This time it was a "virtual" event, meaning it was just us in the room with a few hundred people watching at home on Facebook, etc.
Erin and I went down to my old stomping grounds for a fun getaway weekend. I began my TV career in Ft. Myers back in 1989 after four years in radio. I no longer recognize the riverfront area. It's completely made-over and improved. We stayed at the Luminary & Co. Hotel. Beautiful place. Look for a review in my 'articles' section in the coming weeks.
And last but not least, 133,000 voters chose me to serve on the Sarasota County Charter Review Board. (It's the panel that helps decide which ISSUES make it to the ballot.) Very gratifying.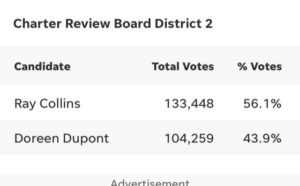 October 2020: Media: Fun weekend 'staycation' at the Embassy Suites in downtown Sarasota. Chef Sol brought out filet and lobster for me, and Erin had short ribs.
Real estate: Interesting cross-section of listings. From a little cabin in the woods off Bahia Vista ($260k), to a never lived-in condo on South Palm ($1.3), to an Old Florida beach hotel on Siesta Key ($2.9). And just to keep me hopping, I'm also helping sell 37 hotel suites in a massive condo conversion on Anna Maria Island! Let me know if you have any need for a Realtor! (ray.collins@floridamoves.com)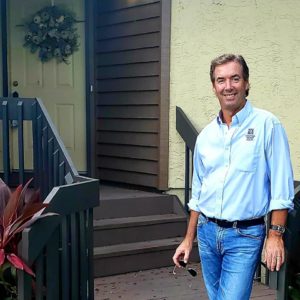 September 2020: The pandemic and the Presidential election are on everyone's mind, and pictures from earlier this year of our daily lives now look like a distant memory. Everything from events to handshakes have changed.
Was honored to speak to the Sertoma Group at their regular lunch meeting. 'Sertoma' is an acronym for "Service to Mankind." I spoke about my recent primary election victory as well as trends in local real estate.
Had a chance to do a resort review of the new Compass Hotel on Anna Maria Sound. Great weekend. Erin and I hiked the adjacent Robinson Preserve after we checked out. (I've been published over a hundred times, including nearly 60 resort articles from Hawaii to Cape Cod, and Toronto to Key West. Check out the 'Articles' tab on this site.)
One of the most gratifying assignments I have had the past 15 years is my involvement with the annual Dick Vital Fundraising Gala for Pediatric Cancer Research. For the past 14 years I've been a reporter covering the event. This year, I helped promote the event by profiling four heroic families enduring cancer treatment for a child or sibling. Here's a picture of Dick and I in his home office prior to our interview.
August 2020: The new normal is seeping into our daily lives. I wonder how we'll have an end to the Coronavirus if there has never been a vaccine for the common cold. Is there a chance we'll always have COVID in our lives? No one knows.
Produced four videos in advance of the 15th annual Dick Vitale Pediatric Cancer Research gala. I've covered the event each year–and this one was certainly different: The bad news is–it was 'virtual,' so no big party at the Ritz this year. The good news is–they still raised a record amount of $7 million dollars! Amazing. (Some big donors got involved.) Bittersweet to meet the sweet families involved: All NICE people, but sad they were all touched by cancer in their young lives.
Also produced 12 videos for Derek The Salon in Burns Court. Derek Donovan is a friend of mine, he's also from the Buffalo area–and he asked me to do short profiles of all 10 of his stylists. He's rolling out one a week for 10 weeks on his social media pages.
Real estate is keeping me busy: Working a condo conversion on Anna Maria Island at a Marriott affiliate. If you buy a suite at Waterline Villas & Marina you can have it rented out when you're not there and recoup a portion of your expenses. Also listing a $1.3 million dollar condo on South Palm Avenue. (The video I produced about it is being featured in next month's 'Florida Realtor' magazine. You can find it under my video projects tab–or scroll down to the June blog.)
And I am still shocked to have upset the incumbent and two other worthy candidates in the August Primary for the Sarasota County Charter Review Board. (The board keeps an eye on the county constitution and submits questions to voters when merited.) It was helpful to have support from both area Members of Congress, county commissioners and some local celebrities–including Nik Wallenda, Nick Bollettieri and Dick Vitale. Here are the surprising results!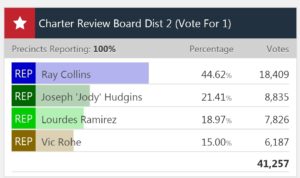 July 2020: Not sure there is a light at the end of the tunnel yet with this pandemic. One step forward, one step back. Glad most businesses are back open, but mortified the number of cases isn't going away. Despondent to report my friend Gary Tibbetts died of the virus in July. His new wife is heartbroken, as are his many friends. I knew Gary for 15 years, we golfed together and spent time together whenever I covered Sarasota area Congressman Vern Buchanan for whom Gary provided security. (He was a retired policeman.)
On a lighter note, I sold one home and co-listed another, and am still selling a new condo on South Palm Avenue. (I shared the video in June–which caused plenty of attention, including from the Florida real estate industry official magazine which is doing a feature story about my abilities to produce high-end videos due to my background in the media and marketing.)
In case I'm not pre-occupied enough with real estate and video production, I was also convinced to run for the Sarasota County Charter Review Board. It's the panel that decides when an issue should go to a voters' referendum. I'm facing three opponents in the primary on August 18th. Either way, it's been very interesting already. I've spoken to four different community groups–and seeing my name on a ballot is a little surreal.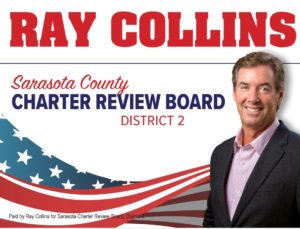 Something "unusual" happened on the campaign trail. I wasn't going to spend any money on this and let the chips fall where they may. But a friend with a high-profile lawn offered to plant a sign for me. I decided to make ONE sign. Within 2 days, the City of Sarasota decided it was too close to the curb and rather than move it, or give me a warning, they plucked it out, threw it in their truck and took it to the landfill! The local news columnist for the Sarasota Herald-Tribune was quick to do this article which generated more attention for me than that one sign ever could have! (Here's the link:)
https://www.heraldtribune.com/opinion/20200728/seidman-sarasota-disposes-of-candidatersquos-lone-campaign-sign
June 2020: Florida–and the country–took a step backward in June as COVID cases spiked during this tragic pandemic. So many good people losing their businesses, being left in limbo, etc. I produced a video about a condo I'm helping sell in downtown Sarasota and it's caused a bit of a buzz. One person said this sort of video has never been done before in Sarasota, and other friend said, "THAT'S how to sell real estate." It's received over a thousand 'hits' in a few weeks. Watch the video–but stick around for the bloopers at the end! And yes, as of this writing, the condo is still available!
May 2020: The world started spinning again in May as the global pandemic began to at least 'feel' more under control. Certainly hope the numbers confirm that. Had a relatively active month: My media company produced several videos including a re-opening video for "Derek the Salon" in Burns Court. (You can see that on the Video Projects page.) And in real estate, I sold a condo on 34th Street West and listed two other properties–a nice house on the IMG golf course in Bradenton and a townhouse on the water near downtown Sarasota. Here's a video I produced to promote my real estate work with Coldwell Banker:
April 2020: Another unusual month. But I refuse to sit idle. I'm taking advantage of all the webinars and classes made available by Coldwell Banker. Joining the real estate industry in January felt like jumping on a speeding train. The silver lining to this pandemic is the chance to catch my breath and learn more about my new chosen career.
Having said that, I've been relatively busy with clients. Listed three properties and had offers already on two. Was honored to be featured by Photographer Janet Combs who did a special piece for the Sarasota Herald-Tribune on how local "community leaders" were working from home. Here's a picture of me with my much prettier half, Erin.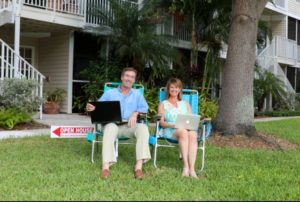 March 2020: It was the month the world stopped spinning. A global health and economic disaster. Scary, sad, frustrating–take your pick. So much was going right for so many people, and it all grinded to a halt. Personally I had 6-7 nonprofit events that I was either hosting or attending in March. I snuck in a Yankees/Orioles game in Sarasota with a good buddy before the curtain came down.
A friend of mine is going through some memory issues, has to sell his condo as soon as possible and move back in with his mother. Consequently he's practically giving away his home for just $95,000. If you know anyone who might be interested, let me know. Here's a video I produced about this 2/2 condo between Bayshore Gardens and the IMG Academy, also near the State College of Florida. (UPDATE: PENDING.)
February 2020: Got up early to announce thousands of names crossing the finish line at the Sarasota Music Half Marathon. Amazing technology–each runner has a 'chip' on their number tag, and when they approach the finish line, their names pop up on my laptop computer. The hard part was when several people finished at the same time!
Did another travel article–this time of Sarasota's newest high-rise hotel, the Embassy Suites by Hilton. It may not be as glamorous as the Ritz or the Westin, but it's the lowest-priced and has free hot breakfast and Happy Hour! Beautiful large rooms with great views. (Check out the story under the 'Articles' tab.)
And one of my favorite events of the year–Master of Ceremonies for the annual gala for the Epiphany Cathedral School in Venice. My prettier half, Erin, graduated from ECS a few years ago and it's an absolute treat to return to help those good folks.
January 2020: Enjoyed speaking to the Ritz-Carlton Members Club about the current state of the media….Was up in the chair as 'Celebrity Umpire' of a tennis exhibition at the new Lakewood National Country Club…Produced a series of videos and am handling social media for another client…and held a Saturday morning boot camp to teach local 23 politicians how to work with the media. And some breaking news! I've acquired a Florida real estate license and have affiliated with Coldwell Banker's downtown Sarasota office. If you, or anyone you know, is ready to buy or sell a home, let me know!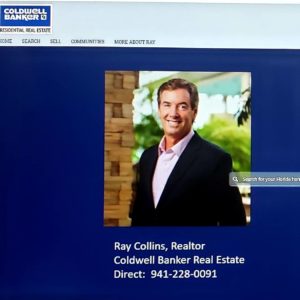 December 2019: Helped a local doctor prepare a speech to an assembly of his patients about a switch to concierge medicine…worked with a local nonprofit to generate publicity for a fundraising event… and traveled to the Streamsong Resort in Central Florida to write an article for Family Beautiful Magazine. For the second year, I was Master of Ceremonies for a pro tennis exhibition at The Meadows Country Club on behalf of 'Toys for Tots.' Here's a picture with two former Wimbledon Doubles Champions.
November 2019: One of my favorite events of the year is moderating the "Wit & Wisdom" discussion featuring three community leaders, in front of 300+ people at Michael's on East. It's hosted by The Pines of Sarasota. … Was also Master of Ceremonies for the "Black Tie & Blue Jeans" annual gala for Easter Seals. Beautiful event….Had a chance to be a 'celebrity waiter' at the "Wine, Women & Shoes" luncheon that raised $700,000 in a few hours for the Forty Carrots Family Center… Went to Pine Island in Southwest Florida to write an article for Family Beautiful Magazine about Tarpon Lodge and Cabbage Key Inn. Memorable weekend…and had a chance to be a wedding 'officiant' for two dear friends who had a wedding ceremony on Manasota Key. Here's a picture:
October 2019: Had a chance to spend a long weekend on Sanibel as part of a Travel Writing assignment for Family Beautiful Magazine. Also traveled to Clearwater Beach for another article about fun places to eat along the Gulf of Mexico…Was Master of Ceremonies for a tennis exhibition at the Longboat Key Club on behalf of the Joey Gratton Foundation…Was proud to be the Media Sponsor for the Ringling Museum's popular Ungala 2019. Also produced this fun video of the party itself.
September 2019: Produced videos in September for a gulf-front mansion on Manasota Key, a high-end townhouse on Siesta Key and a pretty house tucked off the street in Gillespie Park. (All videos are on my 'Video Projects' page.)
Had a chance to be Master of Ceremonies for the "Designing Daughters" Inaugural Golf Fundraiser at the Longboat Key Club…Also M.C. for the American Cancer Society's "Real Men Wear Pink" Fashion Show at the Mall at UTC. (Photo on my picture page.) And spoke to a group of retired executives and other professionals at a Monday Men's Group in Lakewood Ranch. They wanted to dig deep into why TV news covers certain stories more than others. Told them about the chicken and the egg.
Real thrill to co-host with Cyndi Edwards on WFLA-TV's "Daytime" show in Tampa. It also is sent to dozens of affiliate stations around the country. Here's a clip:
August 2019: Wrote a review of "The Birchwood Inn" in St. Petersburg. This was the 60th resort or hotel I've profiled as a Travel Writer. (A complete list under the Articles tab.) Produced a video for "Derek The Salon" in Burns Court. (Video Projects page.) Attended a 2-day marketing summit in Tampa about the changing world of advertising sponsored by the Florida Restaurant & Lodging Association.
July 2019: Hosted Friday Fest at the Van Wezel…and Master of Ceremonies for the World Rowing Under 23 Championships at Benderson Park.
June 2019: Master of Ceremonies for "Global Health Awareness Day" at The Westin Sarasota on behalf of Visit Sarasota County. Spent the rest of the month working on a special hour-long TV show on ABC 7 about Nik Wallenda's walk over Times Square with his sister, Lijana. We went to Manhattan and did 23 live shots over four days for Sarasota and other stations around the country in the chain.
May 2019: Did an investigative report for ABC 7 on why Sarasota Police have yet to use the free body cameras they received from the federal government. Check out the report under my "On-Air" tab. While you're there, check out the latest Chalkbaord Champions for the semester. Hosted three events in May, in two different regions. Erin and I went down to the Naples area where I was the announcer for a women's pro tennis tournament at the Bonita Bay Club. Back in Sarasota, I was emcee for the Johns Hopkins All Children's Hospital 5k fundraiser…and I hosted the Mark Wandall Foundation's fundraiser for Camp Comfort Zone–which supports children who have lost parents or siblings. Here's a picture from that night:
April 2019: Busy month–Sarasota Film Fest, Sarasota Chalk Fest and I had a chance to take a week off work and help out at the Sarasota Open (tennis) for a 7th year. Also this month I was master of ceremonies for a 5th year at the 5th annual Buddy Up Tennis event for down syndrome. Energetic group. Also, I've been asked to handle the "Chalkboard Champion" duties at ABC7 which gives me a real thril–but nowhere near the thrill an unsuspecting teacher received from us entering their classroom with a rolling camera and an oversized check! You can see all the emotional pop-ins under the "Ray On-Air" tab on this website. Here is the most recent one:
March 2019: Real thrill to meet and interview former "First Daughter" and U.S. Ambassador Caroline Kennedy. She was in Sarasota as part of the Ringling College Town Hall Lecture Series. (See picture page.) Represented ABC 7 at a career day for Riverview High School. And was honored to emcee the annual gala & auction for the Epiphany Cathedral School of Venice. My much better looking half, Erin, graduated from ECS and it's fun to bring her back for this event. My 4th time hosting. It's also very emotional and nostalgic that the event is held at the Plantation Country Club where my parents were snowbird for years. I used to come down–and up–and visit them until I finally moved here myself.
February 2019: I can add two more sports to my announcing resume: I was the 'voice' of the Sarasota Music Half Marathon, and I introduced the golfers as they took the tee at the Web.com pro golf tournament at Lakewood National Golf Course. Oh, I met the Founder of Wikipedia (Jimmy Wales) and the legendary Tony Orlando (Below).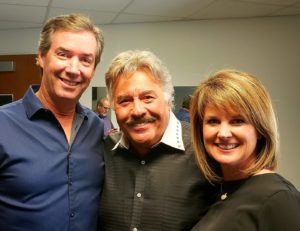 January 2019: Besides broadcasting, another big passion of mine is tennis. It's always fun to combine the two as I had a chance to do this month at the 20th annual "Make A Wish Lessons for Life" event at the Venetian Country Club. Over a dozen area club pros gave of their Saturday afternoon to teach tennis to a hundred generous people. (Fun fact: I was a country club tennis pro during college!)
Also in January, I had a chance to take part in Florida Literacy Week thanks to the Early Learning Coalition of Sarasota County. Here's an action shot. 😉
December 2018: Had a lot of fun co-hosting a pro tennis exhibition at the Meadows Country Club featuring four women players. And enjoyed taking part in the downtown Sarasota Christmas parade:
November 2018: Hosted/attended four events in one day early in the month! Listen to this wide variety: I was master of ceremonies at a 5k in Lakewood Ranch for the "Care to Tri" foundation. From there we went on to cover the Dick Vitale annual collegiate tennis tournament to raise funds for pediatric cancer research. After a quick lunch in Bradenton, I was master of ceremonies for an annual event in the 'Village of the Arts,' and then a spontaneous thing happened that night that left me talking in front of an audience again: A friend of ours is a local doctor–but he's also a magician on the side. He gathered a group of friends and supporters for a performance, and asked me to do the honor of introducing him before he came on stage. Full day.
Had a chance to meet and talk to former supermodel-turned-super-businesswoman Christie Brinkley who was at the Ritz Carlton Sarasota on behalf of the Forty Carrots Family Center. (See our picture under the photos page!)
Also in November, I was honored to host the annual Pines of Sarasota "Wit & Wisdom" luncheon for the 6th year in a row. This is one of my favorite events of the year, interrogating community leaders about their pasts, presents and futures. Here is a picture of us in action:
October 2018: We spent 9 days in Palm Springs on vacation, but still managed to have a busy month in Sarasota: Master of Ceremonies for the Junior League of Sarasota's annual Lily Pulitzer Fashion Show & Luncheon….Master of Ceremonies for "Share Care Global's" 2nd annual fundraiser, "An Evening in India." … Master of Ceremonies for the Moffit Cancer Center of Tampa's annual fundraiser in Sarasota. Here is a picture with two of the organizers:
September 2018: Another year of Friday Fest at the Van Wezel in the books. I've been Master of Ceremonies for the past 5+ years. Here's a picture with some of my colleagues:
August 2018: Did something I always wanted to do this month: I 'shot' high school sports for the Friday Night Football show on ABC 7. Here's a picture at the Cardinal Mooney game. Bucket List.
July 2018: I threw out the Ceremonial Opening Pitch at the Bradenton Marauders baseball game in July. Though it crossed directly over the plate, it didn't break any speed records–not even in a school zone. To make matters worse, I found my picture hanging outside the restroom. 😉
June 2018: I've had the chance to 'host' hundreds of events over the decades–everything from being the ring announcer for a prize fight–to a moderator for a famous person's memorial service. In June I was asked to kick off Global Wellness Day at the Westin. Hundreds of people doing yoga on a Saturday morning.
Later in the month, my co-anchor Stephanie and I hosted the first in a series of "Friday Fest" live outdoor concerts on Sarasota Bay at the Van Wezel. Here's a picture of us posing with the ABC 7 Director of Promotions:
May 2018: One of my favorite assignments is to tell good, upbeat stories. I had a chance to profile four little kids who beat cancer (knock on wood) in advance of the annual Dick Vitale pediatric cancer gala. (They raised $3.5+ million this year!) Anyway, if you want to see four inspiring stories, click on my "On Air" tab on this site.
Another favorite thing of mine is helping good people. Allison Davis began a local chapter of "Buddy Up Tennis for Down Syndrome" for her twin sister Sarah. I have been Master of Ceremonies for their events for the past few years. (Picture below with my buddies:)
And to round out the month, my co-anchor Stephanie and I had a chance to meet Tony Danza. Very nice guy. (Picture below:)
April 2018: Enjoyed meeting former Sarasota resident Chelsea Gonzalez who is now a working actress in Hollywood. (Picture below.) She was here for a short film she produced at the Sarasota Film Festival…Master of Ceremonies for the "Tennis Ball" at Selby Gardens on behalf of the Joey Gratton Foundation…Public Address Announcer for the 6th year at the Sarasota Open…Master of Ceremonies for "Dr Idol" on behalf of the Silverstein Ear Foundation.
March 2018: Did an interesting story about residents trying to fend of a name change for their street in Sarasota. You can find the link to that story on my "On-Air" tab on this site.
Two sentimental trips down to Venice to host events at the Plantation Country Club. That's where my parents were snowbirds 30 years ago. Nostalgic to go back. Master of Ceremonies for Epiphany Cathedral School's annual gala and a pro tennis exhibition: Here's a picture from the courts:
Had a chance to anchor coverage of the Spring Training opening game with Stephanie Webb. Here's a fun little video:
February 2018: Fun month! I played catch with the leading scorer in Buffalo Bills history, Sarasota resident Steve Christie, for an interview previewing the Super Bowl.
Had a chance to be Celebrity Guest Ringmaster at Circus Sarasota's "Ovation." (Photo: Cliff Roles.)
And I threw out the Ceremonial First Pitch for the St. Louis Cardinals-Baltimore Orioles Spring Training game at Ed Smith Stadiuim in Sarasota. (Photo: Norm Schimmel.)
January 2018: Enjoyed meeting Matt Sauer, the Executive Editor of the Sarasota Herald Tribune, and Deputy Managing Editor of the Business Observer Mark Gordon. The three of us served as the panel for Leadership Sarasota's media day.
Did a couple interesting stories this month. One on the state of local real estate, and another on an author who quietly passed away in Sarasota after being behind the biggest literary hoax of the 20th century. Clifford Irving pretended to write the Howard Hughes autobiography, hoping the reclusive billionaire wouldn't come forward to straighten the record. But Hughes did and Irving went to jail. Here's the story I did with his widow:
December 2017: Had a nice time riding on the ABC 7 float through downtown Sarasota in the annual holiday parade. Here's a picture with my previous co-anchor Jacqueline Matter:
Happy to have co-anchor, Stephanie Webb, with us now. She is funny, experienced and easy to work with. Here is one of our new promotional pictures, along with the great John Scalzi:
Had a chance to see "A Motown Christmas" from the Westcoast Black Theatre Troupe. One of the singers was so good, I contacted her immediately and booked her on our show. JoAnna Ford is from Baltimore, went to college in Michigan and now is working in Manhattan. So charming and talented.
November 2017: Busy month, hosting three separate events. My 5th year as moderator of "Wit & Wisdom" for The Pines of Sarasota. 350 people at Michael's on East listen to me grilling three local newsmakers over lunch. (I'm with former Sarasota County School District Superintendent Lori White, Founder of the Westcoast Black Theatre Troupe Nate Jacobs and CEO of The Observer Newspaper Group Matt Walsh.
Also, was master of ceremonies for a rare Sunday evening gala, "Miracles on 17th Street" for the Glasser Shoenbaum Human Services Center. Raised over $200,000 in a paddle raise.
And had a chance to help out my buddy Greg Simony who founded the "Care 2 Tri" organization. He runs triathlons and takes a "buddy" with him through the race.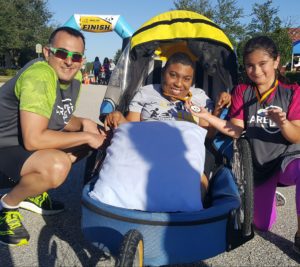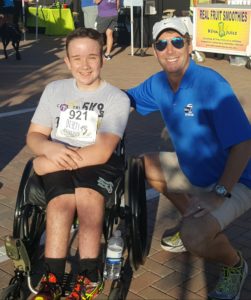 Did some interesting stories in November, including a closer look at development planned for Sarasota bay around the Van Wezel. Here's the story:
October 2017: Enjoyed hosting the Braveheart 5k Run at the Sarasota Celtic Festival. Anytime I can work alongside former Buffalo Bill kicking legend Steve Christie I'm happy to volunteer my time. Not just a big shot, but also a quality guy.
Had a nice dinner at the Sarasota Boys & Girls Club, and enjoyed hearing about all the good things CEO Bill Sadlo and his team are doing for thousands of local kids. I'm going to start mentoring some of the kids who have an interest in the media:
Spent last Saturday at the Sarasota County Fairgrounds at the ABC 7 table, meeting viewers at the inaugural "Age-Friendly Festival." (Picture below with Dick Smothers.)
Went up to Buffalo to see family and spent the day hiking through Letchworth State Park. Here's a picture of Erin and me taking a break on some old steps: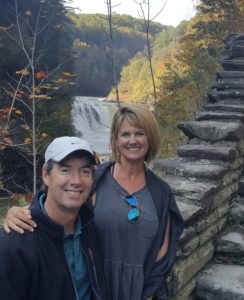 Did an investigation into how Sarasota owns 203 properties and rents some of the most lucrative ones for a $1 a year or less. Hope you can watch this video:
September 2017: One of the most unusual months I can recall: Erin and I toured Italy during the first week, while reports of Hurricane Irma were the top story even in Europe. We wanted to stay there, but duty called: We got back on a Friday night and I had to go into work Saturday morning–and pretty much stayed there until Monday afternoon. Slept on an air-mattress in a brightly-lit sales office. After 32 hours anchoring over 3 days, I was happy to go home–even though we lost power for a few days.
The other half of the month was dominated by the 2017 World Rowing Championship in Sarasota County. I hosted an event in conjunction with the races at the Van Wezel called "Sunset on the Bay."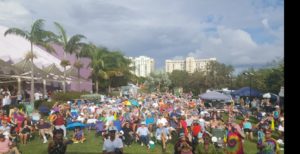 Also landed an exclusive interview with Alex Miller–the state representative who won election and then decided she didn't have the time or desire to remain in office. Her comments about "the system" in Tallahassee caused quite a buzz from both sides of the aisle. Some call her a hero, and others–do not. Watch this:
August 2017: Hurricane Harvey certainly dominated the news in late August. We interviewed a Red Cross spokesman about how local residents could help. Here's a picture.
So, why are airfares higher out of Sarasota? I did a story that caused some buzz. The answer may surprise you. Even though the airport seems like a ghost-town most of the day, there are still nearly 100,000 passengers a month–and that's enough for air carriers to keep prices high. Supply and demand.
July 2017: Had a nice time hosting "Friday Fest by the Bay" at the Van Wezel Performing Arts Hall. Here's a picture with one of my favorite colleagues, Linda Carson. I've only been in the business for 32 years full-time. She's nearing the half-century mark!
June 2017: Great turn-out for the Big Brothers Big Sisters of Manatee County fundraiser at the IMG Academy in Bradenton. Dozens of local restaurants competed in various categories. I had a chance to be Master of Ceremonies along with Celebrity Judges Police Chief Melanie Bevan and Mayor Wayne Poston.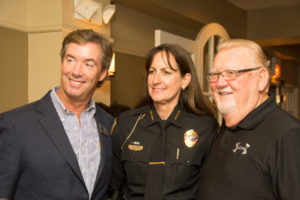 Also happy to show one of the new promotional shots of "Good Morning Suncoast."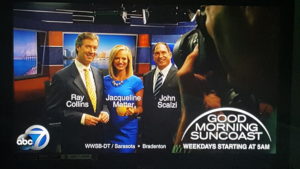 May 2017: Had fun hosting the annual fundraiser and clinic for "Buddy Up for Down Syndrome." Great group. (Picture below.) Also was in the ABC 7 booth for the monthly "Music on Main" event put on by Lakewood Ranch.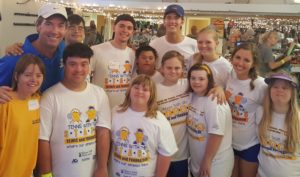 Produced a story on ABC 7 about some major league circus memorabilia collectors–who had some strong words about Feld Entertainment's decision to pull the plug on the Ringling Brothers Circus. Take a look:
April 2017: Busy month helping a number of tennis-based charities in Florida: Traveled to Ft. Myers to host a fund-raiser for a little girl recovering from brain cancer named Madisen. "Madisen's Match" included tennis stars Tom Gullickson, Kathy Rindaldi, Mardy Fish and Robby Ginepri.
*Hosted the "Joey Gratton Foundation" annual fundraiser at Sarasota's Bath & Racquet Club featuring longtime friend Johan Kriek, Petr Korda and Hugo Armando.
*Was public address announcer for the 10th annual Sarasota Open benefiting the Manatee County Boys & Girls Club. This was my 5th year introducing the players–and the first year at Erin's club where she is General Manager, United Tennis Club at El Conquistador in Bradneton. (Great story about the winner, Frances Tiafoe: His father used to groom the courts at a club in Maryland and Frances and his twin brother would sleep in the club since the family was homeless.)
This was my first official month as co-anchor of "Good Morning Suncoast" on ABC 7 in Sarasota. Had a fun interview with a colleague's nephew on "Take Your Children to Work Day."
March 2017: Continuing to fill-in on the ABC 7 morning show… Represented ABC 7 at an effective workshop for the Community Foundation of Sarasota. (A few dozen local media relations professionals looking for insight from people in the media business..Glad to help share the 'answer key' on getting media coverage)… .. For the 5th year, I was Master of Ceremonies for a pro tennis exhibition at the Plantation Country Club for All Faiths Food Bank…Honorary Co-Chair for the annual Juvenile Diabetes Research Foundation walk in Lakewood Ranch. Here is a picture of the group posing after we shot a public service announcement for the upcoming event:
February 2017: Filling in on the morning show on ABC 7, and not having a lot of time to do much else besides sleep and work! Erin and I did sneak out one night to return as Master of Ceremonies for Epiphany Cathedral School's annual gala/fundraiser. Erin went to grammar school there, and I'm proud to be in the position to help this fine school in Venice.
January 2017: Produced three videos for a local nonprofit about their different services…Productive weekend in Orlando: Wrote a magazine article about Omni Orlando at ChampionsGate and supplied audio-video support for a real estate corporate event for LGI Homes. Went to Key West for an article, and produced a video about the ferry service from Ft. Myers. Also did an interesting story at ABC 7 about all the developments falling behind because contractors can't fill needed positions, while hundreds of vagrants ask for money around downtown. Take a look:
December 2016: Mini-bucket list item–rode in a parade during the annual holiday event in downtown Sarasota. Did play-by-play up in the umpire's chair for a pro tennis exhibition on behalf of "Brandi's Wish." Produced a video for "Trinity without Borders" with Nik Wallenda.
Also went home to Buffalo to be honored by my high school. I was proud to be inducted into the St. Joe's "Wall of Honor." Nice surprise to have my three brothers at the ceremony. After that, Erin and I went north to spend the weekend at the Prince of Wales Hotel in Niagara on the Lake. Beautiful visit.
November 2016: Honored to return for the fourth time as Moderator of the "Wit & Wisdom" panel on behalf of the Pines of Sarasota. Several hundred people at Michael' on East….Hosted back-to-back events on a Saturday that kept me booked all day: The annual Josh Provides Epilepsy Foundation Walk in Payne Park–followed by "Rock for a Cause," an all day battle of the bands competition to raise money for school music programs. A block of Main Street in downtown Sarasota was closed for the event, that featured a stage on the road and vendors lining the curbs.
Travel Writing for Family Beautiful magazine brought us to Boca Grande's beautiful Gasparilla Inn. Spacious suite with a balcony overlooking the entrance.
Also spent another weekend at one of my favorite tennis resorts, Saddlebrook Club (near Tampa). I produced another video for them, this time for the junior tennis academy. Take a look!
October 2016: Had a chance to catch up with some former classmates at the Gulf Coast Leadership Institute's reunion at Laurel Oak Country Club. Wonderful program established by the Gulf Coast Community Foundation. Met some great community leaders during my "semester" back in 2011.
I put together a few clips from the most unusual chapter of my TV career. I had a chance to return to my hometown of Buffalo back in the 1990's, to the same station where I had interned as a teenager–and host a start-up morning newscast that zoomed up the ladder and tied for 1st place within two months. We had a great team, and at the time, great management that let us get away with skits, sound-effects, and fun you rarely see on TV. You'll be surprised what I was able to do in a previous life.
September 2016: Had a nice swing through South Florida while doing a magazine feature story on Sonesta Fort Lauderdale and Sonesta Coconut Grove….Master of Ceremonies of a fundraiser at the Blue Marlin Restaurant on Historic Bridge Street (Bradenton Beach) for All Children's Hospital. While we were there, we made a weekend of it and had a nice "staycation" on Anna Maria….Hosted the fourth and final "Friday Fest on the Bayfront" at the Van Wezel Performing Arts Center. Thousands of people enjoying great bands while watching the sunset beyond the band-stand over Longboat Key and the Gulf of Mexico.
Had a chance to cover the National Blind Golf Association Tournament at Palm Aire Country Club for ABC 7. Please take a minute and watch this short piece. It will brighten your day:
August 2016: Wrote five articles this month for two regional magazines (You can see all the articles published over the past seven years under the Articles tab on this website)…Took still-photos with a downtown skyline for a local professional looking for a new business picture.
Covered Hurricane Hermine–and learned the value of holing up in the pouring rain under a closed bank drive-through lanes. Plenty of cover and lighting. Here's a little wrap up of the storm from the beach.
July 2016: Had an opportunity to go to the Republican National Convention for ABC 7 in Sarasota–and its two sister-stations in Huntsville, Alabama, and Tallahassee, Florida. (I appeared on most of the newscasts on all three stations in two time zones.) It was exciting, challenging…and frustrating. Was honored to go, and pleased to come home!
Here are two pictures below…
June 2016: Erin and I went to Toronto to do an article about the new Ritz Carlton on the waterfront. Great trip. The review will appear in "Family Beautiful Magazine."
Had a chance to host an event for Southeastern Guide Dogs at the Hyatt Sarasota.
Found out I'll be covering the Republican National Convention for ABC 7 in Cleveland.
Produced two videos–about an author and an artist. Here's the latter:
May 2016: Master of Ceremonies for the Make A Wish Foundation luncheon at the Ritz Carlton…covered the Dick Vitale Gala and interviewed Ohio State Coach Urban Meyer as well as former Bucs Coach John Gruden.
Erin and I went to Orlando to do a "travel article" on a resort on International Drive.
And one of my favorite stories in years got me invited to speak at a luncheon at Marina Jack. Here it is. Proud of this one.
April 2016 An exciting month…
*The Sarasota Herald-Tribune did a profile of me.
http://www.heraldtribune.com/article/20160407/COLUMNIST/160409730/2050/SPORTS?Title=Sarasota-Open-Telling-it-like-it-is
*Raised a record $71,000 for the Epiphany Cathedral School as Auctioneer of a black-tie gala at The Oaks.
*Recruited to be a mentor for a nationwide organization, Mastermind Lounge, that includes a number of pro athletes and other professionals.
*Spoke to the Siesta Key Kiwanis Club.
*Went to Washington, DC, with the Honor Flight organization to cover some local World War II veterans making their first visit to the National Memorial on the Mall.
*Public Address Announcer again this year for the $100,000 Sarasota Open. Here's one of the few times I'm on the other side of the microphone:
*Was Master of Ceremonies for the annual Lakewood Ranch Tennis Festival to benefit "Take Stock in Children" of Manatee County.
*Erin and I went to South Seas Plantation on Captiva Island to write a travel review for Family Beautiful Magazine. (By the way, Erin was named General Manager of United Tennis Club & Academy in Bradenton.)
*And last but not least, the Florida Associated Press awarded me 1st place for General Assignment Reporting. Here is the story that did it:
March 2016 The Florida Primary was an interesting night. I did a 'live' shot for ABC 7 here in Sarasota, and then did the same thing for a sister-station in Huntsville, Alabama.
Had a chance to be Master of Ceremonies for several events in March, the Plantation Classic Tennis Fundraiser in Venice for a local food bank…Buddy Up Tennis for Down Syndrome at the IMG Academy in Bradenton…and the Joey Gratton Foundation players' party at the Bath & Racquet Club in Sarasota. I love the chance to combine my love of tennis and broadcasting.
My monthly column in "Play Sarasota" Magazine featured an interview and picture with Kei Nishikori, one of the top-ranked tennis players in the world.
Erin and I had a 'stay-cation' to Anna Maria Island. I'll be writing an article about it for Family Beautiful Magazine for it's Summer issue.
Covered two concerts at the Van Wezel Performing Arts Hall: Saw the legendary Gordon Lightfoot, as well as the original cast from Broadway's Jersey Boys, now touring independently as "The Midtown Men." Love the music and the choreography.
Produced two videos for local businesses.
Also had a chance to host a televised round-table discussion on ABC 7 about the growth of the Independent party. Here's the video:
February 2016 Busy month, wrote six articles for two magazines. Covered the Donald Trump rally in Tampa for ABC 7. Did the auction for the "Take Stock in Children" luncheon at The Field Club in Sarasota. And was honored to be featured on a tennis program, "Inside Tennis with The Koz."
January 2016 Honored to be asked by the family of International Tennis Hall of Famer Mike Davies to moderate a Celebration of Life. Some of the biggest names in tennis came to Sarasota for the ceremony. (Stan Smith, Cliff Drysdale, Butch Buchholz–three Hall of Famers right there.) Congratulations to Vallerie Guillory for all she does.
Did a story about a local charity, "Trinity Without Borders," that hands out blankets and clothes to the homeless. The report caused donations to spike. Here's a YouTube link to the story:
Met another interesting person making a difference. David Campbell began a disaster-relief organization called "All Hands Volunteers." His organization is based in Boston, and he gave a presentation in Sarasota about his team's efforts all over the world.
Had a chance to see a couple good concerts this month, thanks to my position as the evening reporter/photographer at ABC 7: I videotaped the first few songs of Frankie Valley, ABBA-mania…and attended the 'Buddy Holly Story.'
I was struck by the amazing technology this month when I was covering the announcement of the new police chief in Bradenton. By flicking a few switches on the camera, I can simultaneously feed what I'm shooting back to the TV station. The editor back at the base can record it and get it on the news moments later. Of course, they could also take my camera "live" if need be as well. It wasn't long ago, such a transmission would require a lot of cords back to a "live truck."
December 2015 ABC 7 got a new drone and we had a chance to use it extensively in this story about redeveloping the 'forgotten end' of Main Street in downtown Sarasota:
http://www.mysuncoast.com/news/local/big-changes-coming-to-east-end-of-sarasota-s-main/article_0e34a1a2-9877-11e5-ac5d-bfadcdca17b3.html
Produced a video about a self-defense class in Lakewood Ranch…interviewed the winner of the Wimbledon Doubles Championship Horia Tecau for a local tennis show and for an upcoming article in Play Sarasota…reviewed "West Side Story" and the Asolo Theater for Family Beautiful magazine. Went to Clearwater to profile a homeless shelter for a story on Sarasota County's efforts for a similar facility.
November 2015 For the third straight November, I had a chance to be moderator for the "Wit & Wisdom" luncheon for the Pines of Sarasota. 350 people watched me interrogate Dickie Smothers and two other panelists.
*Master of Ceremonies for the Sarasota Young Professional's annual "Rock for a Cause" at Payne Park. Fundraiser for school music programs. Long day. 1-8pm!
*Went to Hollywood, Florida, to see Dennis Miller and Bill O'Reilly at the Hard Rock Casino. We multi-tasked and reviewed Jimmy Buffet's new "Margaritaville" resort. Article coming out in Family Beautiful.
*Covered two stories this month for ABC 7 where I wasn't allowed access to the actual story! The first was Jeb Bush's appearance at a private fundraiser on Longboat Key. I asked his handlers why he couldn't give me 30 seconds on camera. They didn't have an answer. AND I was assigned to cover the world's biggest junior tennis tournament at the IMG Academy in Bradenton, but they were "stretched too thin" to escort me on the grounds. Take a look how I still did the story:
(October 2015) Happy to help All Children's Hospital by hosting their fundraiser in Lakewood Ranch. Fashion show luncheon at the Polo Grille.
Also was able to once again help a charity close to my heart, "Brandi's Wish." Brandi passed away a few years ago (prescription drug overdose) and her parents are dear friends of mine. I hosted the fundraiser as well as a tennis exhibition the following night.
Sharp contrast in a couple of stories I did this past month for ABC 7: I interviewed kidnap survivor Elizabeth Smart one day and covered a Rick Springfield concert the next. (Picture of Elizabeth and me on the photo page on this website.)
Family Beautiful's Fall issue came out. I had three articles in in, "Newport to Nantucket," "Bicycling through Historic Savannah," and an interview with Canadian tennis legend Carling Bassett.
(September 2015) Drove up to Tampa twice to produce a video and provide still-photos for United Health Care's cooperative with the Tampa Bay Buccaneers. They worked together to build gardens in the schools.
Hosted the final "Friday Fest on the Bayfront" of 2015 outside the Van Wezel Performing Arts Center…was a 'Celebrity Bartender' at the Polo Grille in Lakewood Ranch for "Rob's Rescue," a nonprofit that assists families on the cancer floor of All Chldrens Hospital….producing a video for one of the top restaurants in the area, "Ophelia's on the Bay."
I was happy to produce a story about a Sarasota City Commissioner who is using tax dollars to defend herself in a lawsuit. Her bill is nearly a quarter million dollars. She was so convinced I was going to do a biased report, she launched a pre-emptive strike, making negative comments during a public meeting. After the story aired, she told someone the story was actually quite fair and she was thinking of how to extend an olive branch. Her first rodeo. Not mine.
(August 2015) We're doing more videos about resorts and high-end properties. A private island community off Hilton Head, South Carolina, flew us up to Haig Point to do a profile of their beautiful location. Here's a link to the video:
Interesting little "back story" to that video: While taking the ferry back to the mainland, I wanted to find a resident to "profile" for the piece. I saw a young mother and thought she would be a good demographic to include. She said her name was "Kim Messier." I said, "Any relation (to one of the greatest hockey players of all time Mark)?"
"Yes," it was her husband!
She was kind to allow us to include her in the promotional video, which immediately was enhanced by her participation.
Before flying back to Florida, we spent a few hours on bikes touring Historic Savannah. Thanks to our new best friend "Dee Hope" at Savannah Bike Tours.
The article about Savannah, as well as an article about Haig Point, and three other articles from our June trip to the northeast will appear in the Fall edition of Family Beautiful Magazine. They're also running a profile of Carling Bassett I had written for Totally Tennis Magazine. Nice to have six articles in a magazine!
Also consulting with two clients who want to polish their media skills–a retired lawyer and an aspiring tennis commentator.
(July 2015) Media training is making a resurgence around the office. Three new clients: One trying to launch a national TV show is asking me to help polish his on-camera talent skills… one hoping to be a sportscaster looking for help with everything from his delivery to his contacts…and one looking to get some on-camera work as an expert in his field.
Also wrote a profile of a Sarasota resident in the International Tennis Hall of Fame. Mike Davies is a legend for what he did for tennis off the court. He changed the color of the balls from white to yellow, initiated the sit-down breaks between games and invented a 30-second clock between points–all to make the sport more marketable for television.
We produced a video in July for the Venice Youth Boating Association. This is the shortest we've ever done. Less than a minute. It's something ALL businesses can use. (Just don't take a short cut and have your neighbor shoot it because he's inexpensive.) Credibility!
(June 2015) June was dominated by a 9-day trip mid-month for a series of travel articles for Family Beautiful Magazine. We began visiting friends in New Haven, then spent a night at a bed & breakfast called Pearls of Newport , played tennis and toured the museum at the International Tennis Hall of Fame and took the historic mansion tour thanks to our friends at Discover Newport.
From there is was southeast to Hyannis where we took the Hyline high-speed ferry to Nantucket. We spent two nights on the island, had a wonderful stay at the Roberts House, ate lunch at LoLa Burger and had our best meal of the week at at Le Langueduc Bistro. We burned off those calories with a pair of 18 mile bike rides thanks to Nantucket Bike Shops.
Back on the mainland, we drove four hours to Manhattan with a nice lunch half-way in Mystic, CT. In the City, we visited the powerful 9/11 memorial museum, and shifted gears with a fun interactive bus tour called "The Ride."
After two nights in Manhattan, we drove another few hours west and went to a niece's wedding at Bucknell University. We stayed at a quaint bed & breakfast called the "Lewisburg Hotel." We drove south two days later and flew out of Baltimore after meeting friends for lunch in the harbor.
(May 2015) Had a chance to cover the Dick Vitale Celebrity Gala at the Ritz Carlton. The event raised $2.3 million dollars for pediatric cancer research. Amazing effort by Dickie V and his friends. Interviewed Tampa Bay Buccaneers Coach Lovie Smith.
I've had a chance to be a public address announcer for a lot of different events in my career–and now I can add lacrosse to that list! Did the state boys and girls finals.
Produced a video for the Tampa-based "Train Up Foundation" that helps young athletes develop character.
(April 2015) A third of April was dominated by announcing the Sarasota Open. Nine long days and nights at Lakewood Ranch–and I loved every minute of it. Also had a chance to introduce some tennis legends at a charity event on Harbour Island in Tampa.
Did an interesting story for ABC 7 about a perceived conflict of interest involving an elected official. I couldn't get the county attorney to return my call, so I waited for him at his car with a rolling camera. Here's the result:
(March 2015) Had a fun few days on Florida's east coast, checking out resorts in Palm Beach County for Family Beautiful Magazine. Stayed at the Tideline Ocean Resort & Spa and the Waterstone Resort & Marina.…Had the opportunity to play mixed doubles with Serena Williams for the 2nd year in a row, this time against her sister Venus and Asian sensation Kei Nishihkori (#4 in world). It's part of a pro-am at the Ritz Carlton Key Biscayne, across the street from the Miami Open…Four articles in Family Beautiful this month: Hard Rock Orlando, Siesta Bungalows, Soma Diner and Lake Manatee State Park.
(February 2015) Interviewed one of the top doubles players in the world, Max Mirnyi, for Totally Tennis Magazine…Recruited Nik Wallenda to be our speaker for this month's Broadcasters Club of Florida luncheon. (Picture on the photos page.) Produced a video for one of top tennis resorts in the world:
(January 2015) Enjoyed a fun weekend reviewing Hard Rock Hotel/Universal Studios Orlando….Had a successful 2nd annual networking social for the Broadcasters Club of Florida at Hyde Park Steakhouse…Florida Tennis Magazine published my profile of Carling Bassett…did an interesting story about a Sarasota restaurant owner who found a way to deal with the homeless who swarm around his building each night when patrons are coming in:
(December 2014) I will have several articles in the Winter issue of Family Beautiful Magazine: A feature on the Melia Orlando Suite Hotel, a hidden jewel of a gym and spa within the Florida Hospital in Celebration, FL, a "city slicker's" day at Lake Manatee State Park, a night-out at Tarpon Point Restaurant and Tiki Bar in Bradenton, a stay-cation on South Siesta Key (Siesta Key Bungalows, Ophelia's for dinner and Captain Curt's for karoke), and a weekend getaway to the Omni Orlando Resort at ChampionsGate. Profiled Romanian Davis Cup Coach and co-owner of United Tennis Academy in Bradenton, Gabi Trifu. I also had an article published in the statewide Florida Tennis Magazine about Hana Mandlikova.
The Broadcasters Club enjoyed a conversation with ABC 7's Hayley Wielgus for its December luncheon.
Also had a chance to meet and interview Texas Governor Rick Perry in an exclusive broadcast one-on-one at Robarts Arena.
(November 2014) Had the opportunity to once again be moderator of the Pines of Sarasota's annual "Wit & Wisdom" luncheon. Nearly 400 people at the Michael's on East ballroom. On the panel this year, Sarasota golfing legend Paul Azinger, founder of the Sarasota Ballet Jean Weidner, and former music promoter Cliff Roles.
As President of the Broadcasters Club of Florida, I was honored to give a Lifetime Achievement Award to WFLA-TV's Gayle Sierens at our monthly luncheon. Class act.
(October 2014) Travel writing took us to Orlando this month for a feature on the Omni Orlando Resort at ChampionsGate. Also had a stay-cation assignment on South Siesta Key where we stayed at the Siesta Bungalows, ate at Ophelia's and sang karoke at Captain Curt's. Fun weekend. Articles coming out in the January issue of www.FamilyBeautiful.com
(September 2014) Was fortunate enough to extend my streak of covering each President since Ronald Reagan when I was on-hand at MacDill Air Force Base in Tampa for the arrival of Barack Obama:
(August 2014) Met and interviewed another tennis legend for my "One on One" series in Totally Tennis Magazine. Mary Pierce rose to #3 in the world and lives in Bradenton.
Hosted "Friday Fest" at the Van Wezel. Coincidentally the event featured "SoulRCoaster," the local group that lets me sit in on the drums.
Produced a video about a St. Petersburg salon for kids:
Did an interesting "undercover" story with the Sarasota Police:

(July 2014) Busy month writing for Family Beautiful Magazine. I have articles coming out on our recent trip to Niagara Falls, a stay-cation weekend in St. Petersburg, and a new gluten-free restaurant in Sarasota called Beckhams on the Trail.
(June 2014) Had a chance to do a magazine article on one of the top tennis players of the 1980's, Hana Mandlikova. She has relocated to the Sarasota area for her twins (boy, girl) who train at United Tennis Academy at El Con. That article will appear in three magazines, including Florida Tennis… Did a resort review for Family Beautiful Magazine about Saddlebrook Resort in Wesley Chapel, north of Tampa. Going back soon to produce a promotional video for the resort as well.
(May 2014) Produced a video for a high-rise condo in downtown Sarasota:
(Signed on full-time with ABC 7 and therefore curtailing clients that could represent a conflict of interest. i.e. people I may have to cover on the news.)
Had a chance to cover one of the biggest single-night fundraisers in Florida:
(April 2014) Spent a third of the month immersed in the Sarasota Open as the public address announcer…Produced a video along with photographer/editor Detlev Von Kessell on a $4 million dollar condo for sale on Lido Key Beach. (Upscale realtors use our videos to help sell properties.) Freelancing evenings at ABC 7. As a "multi-media journalist, I shoot and edit my own stories. Never stop learning!….Hosted the inaugural Joey Gratton Memorial Tournament at Laurel Oak…and the Lakewood Ranch Business Alliance fundraiser at Waterlefe Golf & Country Club.
(March 2014) Co-hosted a TV 'pilot' project that will be shown to the Bravo Network and others. Sort of an updated version of "Lifestyles of the Rich & Famous"… Handled publicity, produced a video and hosted a gala/fundraiser for "Josh Provides," an epilepsy nonprofit started by a family who lost a loved one to the neurological disorder. On a lighter note, I covered the Sony Open pro tennis tournament on Key Biscayne for two magazines–and had a chance to once again play tennis with three of the best players in the world. Click on the short video below to see Serena Williams and me play a couple points against Novak Djokovic and Ana Ivanovic. Didn't go quite as well as 2013 when I hit a behind-the-back shot to beat Djokovic. (Punch up "Ray Collins" and "Trick Shot.")
(February 2014) Ray Collins Media is helping a number of local companies with it's press and publicity. We can handle social media, website enhancement and place newsworthy items in the local media… Going up north (Tallahassee!) in a few weeks as a Travel Writer for Family Beautiful magazine. I've lived in Florida on-and-off for over 25 years, and never been there!… Produced a video for a local nonproft. It involves a local family who lost a loved one to epilepsy. Really proud of how the video came out. (Fancy cameras and cheap photographers have lots of special effects, but you can't buy good writing and the ability to tell a story at the store!)
(January 2014) Pleased to be invited back as the "Voice" of the Sarasota Open again this April. Love being around pro tennis AND being paid! Speaking of tennis, I'll be host of several upcoming exhibitions at four different tennis clubs over the next couple months. The next one is at Payne Park: An opening match between two top 12-year olds, and then a match between two top 50-year olds. January 12th. 10:30am.
Enjoying my role as President of the Broadcasters Club of Florida. This picture is from a recent 'mixer' we had at Hyde Park Steak House. Next to me is former President of ABC-TV Jim Duffy, former Senate Press Gallery Deputy Superintendent Hope Byrnes and former Commentator on the Mutual Broadcasting System Fulton Lewis.
(December 2013) Had a chance to be the announcer for a fascinating tennis exhibition at Payne Park between a 15-year old rising teenage girl and a 64-year old world-ranked man. Ingrid Neal beat Larry Turville in 3 sets! The next Totally Tennis Magazine One By One Series is set for Sunday January 12th… Proud to say– since taking over as President of the Broadcasters Club of Florida, each of the three luncheons have broken attendance records, topics are more pertinent, demographics are coming down of attendees, we're on social media for the first time and we have a new website: www.BroadcastersClub.com…
(November 2013) Master of Ceremonies for a fundraiser, "Brandi's Wish," at The Francis on November 1st…On the mic in the umpire's chair for a tennis exhibition on November 2nd at Bath & Racquet….M.C. for a concert featuring Sophie B. Hawkins at Tarpon Point in Bradenton on the 9th…Hosting another tennis "Totally Tennis Magazine" tennis event on the 10th at Payne Park and M.C for the Cricket Club's annual dinner on November 30th. (Most of these are the 3rd year in a row for me. Very gratifying.)
Here's an article from The American University Alumni magazine that describes a semester that changed my life:http://www.american.edu/spexs/alumni/Ray-Collins.cfm
(October 2013) Going to St. Petersburg for a travel writer's review of the Renaissance Vinoy…continuing to fill-in on ABC 7…incoming President of the Florida Broadcasters Club…spokesman for a marketing video for the Bungalow Beach Resort on Anna Maria Island…marketing a personal trainer in Tampa…two travel stories published in Family Beautiful Magazine about my trips to Toronto and Lake Buena Vista…moderator for the "Wit & Wisdom" annual luncheon fundraiser for the Pines of Sarasota…master of ceremonies for a stand-up paddle board competition…and produced a video for Adaptive Golf. Watch the first 10 seconds. Very proud of my photographer/editor Detlev Von Kessel:
(September 2013) Working with Lis Begin Productions to enhance marketing for Pines of Sarasota…Producing promotional videos for a New York-based financial advisor and a leading Sarasota realtor…Modeling in a fashion show for charity in Lakewood Ranch…Booking an author for a Sarasota lecture series…Planning a travel writing assignment in St. Petersburg…Writing an article about a recent visit to New Smyrna Beach…Anchoring & reporting for ABC 7. This is from their website: http://www.mysuncoast.com/contact/team/contributors/ray-collins/article_116daaf0-0f1f-11e3-97fe-001a4bcf6878.html
(August 2013) Producing several videos for a start-up company that specializes in helping female entrepreneurs. It's called "Nap Time Startups." It caters to mothers who have downtime during their little one's naps. Also enjoying the opportunity to be the "voice" of a wide-range of events lately: USRowing National Masters Regatta, the Stand Up Paddleboard competition and "Friday Fest" at the Van Wezel. I've been doing a lot of fill-in anchoring and reporting at ABC 7 in Sarasota. Feels very familiar to be back on-air, and especially nice to be covering this city that I love. I put together a few minutes of the work I've done in this YouTube link:
(July 2013) Media training for a local elected official. I sit in the back of meetings, take notes and then submit a 2-3 page report afterwards. It's not really "media training," as much as "image-skills training." Had a chance to be Ring Announcer for "Fight Night in Bradenton" featuring local boxing legend China Smith. Fun doing something outside my usual activities. Here's a video clip of me announcing the fighters. You'd never know I don't like boxing! https://www.youtube.com/watch?v=ytI6Vye71yw&feature=youtube_gdata_player
(June 2013) After years of tennis assignments, I had my first golf assignments this month. Family Beautiful Magazine asked me to write two reviews of area golf courses. I had a chance to tour, get a lesson, play, and eat at TPC Prestancia and the Ritz Carlton Members Club in Lakewood Ranch. Ironically, while freelancing the next day for ABC 7, I was assigned to do a story/live shot at the US Open Qualifying Tournament at…the Ritz Carlton. "I'm back!" Also this month, I helped my dear friend Lis Begin of Begin Productions produce several PSAs for Pines of Sarasota. (Lis's father ran the TV station in Buffalo years ago and he was kind enough to let me start interning at age 14. Same station for which I anchored 20 years later!)
(May 2013) Going to Las Vegas to do some hosting/interviewing for the MoneyShow. Steve Forbes is among the speakers this year. Coming back and going right to Orlando for a resort review about the Lake Buena Vista Resort Village & Spa. Also producing four corporate videos and another video about an up-and-coming tennis player. Freelance reporter/anchor at ABC 7.
(April 2013) Just produced a promotional video for a student athlete.
This may qualify as one of the most surreal moments of my life. May the highlight of your life also be caught on tape! FORTY THOUSAND views on YouTube! Here's the article about it: http://www.heraldtribune.com/article/20130411/COLUMNIST/130419923/-1/sports?Title=Sarasota-resident-unleashes-trick-shot-on-Djokovic
(March 2013) Just got back from a great "assignment" for Family Beautiful Magazine: Eight days in Hawaii. Went to Aqua Palms in Waikiki and then over to the Big Island to stay at the Hilton Waikoloa Village. (Thanks to partners like Waikiki Outrigger Catamaran, ShoreBird Restaurant, Pearl Harbor Memorial, Tropics Bar & Grill, Oceans Sports and Dolphin Quest.) Next trip–South Beach (video shoot for national magazine) Key Biscayne (covering the Sony Ericsson Open) and Palm Beach (reviewing a resort). Excited about offering this new approach to selling homes. Two minute video:
(February 2013) Talk about a productive morning: I was guest co-host on Gail Shane's show on WSRQ, and able to promote/interview three clients in-studio during the broadcast. Booked my author/client Herb Baron on the ABC7 Noon broadcast, weeks after getting him on both Sarasota TV stations and in several regional newspapers. Helping with promotions for the Pines of Sarasota Foundation. Master of Ceremonies for the Take Stock in Children Gala at the Sarasota Yacht Club, Host/Umpire for Totally Tennis Exhibition Series at Payne Park, Master of Ceremonies for the Sarasota Film Society's Academy Award Viewing Party in Lakewood Ranch. Moderator of the popular annual luncheon "Wit and Wisdom" at Michael's on East this October for the Pines of Sarasota.
(January 2013) The new year begins with a busy January for Ray Collins Media: A promotional video for Fusion Therapy, another video and event publicity for author Herb Baron's "La Dolce Vita" book launch party at Selby Gardens, five (!) articles published in Family Beautiful magazine, an assignment to cover the new adventure park "TreeUmph" in Bradenton where I zip-lined for the first time, a weekend travel writing assignment at Bungalow Beach on Anna Maria Island, and master of ceremonies for the $25,000 Totally Tennis Magazine Singles Title for Sarasota. Several bigger things brewing that I hope to announce in the coming weeks.
(December 2012) I'm helping a new fitness studio (Mantra Sarasota/Lagree Fitness) get attention. So far I've gotten them on local TV and in the newspaper. Now I'm helping them get in local magazines: I wrote a first-person account of my experience using this cutting-edge technology. That article will be appearing in two local magazines in January. AND I'm helping them buy space in magazines. If your business needs help making a splash, Ray Collins Media can help! Also, after seven months of planning, happy to say the Bryan Brothers Holiday Shoot Out was a success at the Sarasota Bath & Racquet Club. I had interviewed Mike & Bob when the twins were 14-years old. Twenty years laterwe meet again and now they're simply the best doubles team in the history of the sport. (See "Pictures.")
(November 2012) Among my new clients this month, a parent who lost a child and needed help giving a speech to a thousand people at a fundraiser…and a business person who received some negative publicity and needed 'crisis communications.' Both people went away feeling better about their respective situations…and I couldn't be happier to help others with their communication needs. Also was drafted again this year as a "Sole Man" for the "Wine, Women and Shoes" fundraiser for Forty Carrots Family Center at the Ritz Carlton Sarasota. A few of us even prepared a dance montage to surprise the 600 women as a "flash mob." Gangnam Style! Fun. Switching gears, on a much much more somber note–I'm going to deviate from my format for a paragraph here after being moved by an incident that happened last night. I saw a friend I hadn't seen in several weeks. I barely recognized him at first: He had lost a lot of weight and his color was ashen. He said he developed a bad cold, followed by pain in his back and then repeat visits to the doctor and now oncologist. He may have bone cancer. I hope he pulls through. Live your life to the fullest. (Update: He passed away.)
(October) October includes four promotional marketing videos in various stages of development. I'll also be flying to Atlanta to serve as a media consultant for an internet-based news network–and will stop in Amelia Island on the way back to review the Omni Amelia Island Plantation as part of my travel column for two area magazines.
(September) A couple new activities: Public Relations Advisory Committee for "Visit Sarasota County" and "Take Stock in Children Sarasota" Advisory Committee. Had a fun 'working' trip to LaPlaya Beach Resort in Naples–and the Ritz Carlton Sarasota two weekends prior. *
(August) Pleased to be able to say it was Kathy Dent that I was consulting last month. She was re-elected as Sarasota County Elections Supervisor. (All three candidates with whom I've worked have won their respective elections!) Also this month, had a fascinating visit to the Human Performance Institute in Orlando where I wrote a first-person account of the mental toughness training given to athletes and executives. (I'll be giving a presentation about my experience next week at the Young Entrepreneurs of Sarasota meeting. The article will appear in Totally Tennis and Family Beautiful magazines.) Update: The article on mental toughness is in the "Articles 2" section of this website.
(July) Working with another elected official on media skills. This client wants to remain nameless until after the election. Also, doing videos this month for a realtor and a community foundation. Also, attended the IMG/Bolletieri Tennis Academy to do a first person account on two relatively new ways to get people playing tennis–by cross-training with cardio drills and TRX. Fun. (I began playing tennis at age 7 and it continues to be an ongoing gift that keeps on giving. Thanks Dad!)
(June) Ray Collins Media is representing conservationists around Boca Grande to help save Charlotte Harbor from over-fishing. Having friends in the media in Ft. Myers, Sarasota AND Tampa, certainly helps!
(May) Traveled to Las Vegas to work with the MoneyShow. Had an opportunity to moderate a rapid-fire discussion, interview financial experts for the web-page, and introduce the keynote speaker. http://www.moneyshow.com/marketdata/Annual_Online_Profile/300/C1321953D8A543A18943A2914518B973/Collins-Ray/
(April) Happy to report a new image-training client (attorney), more videos in the pipeline, and writing for another magazine ("Family Beautiful"). Had a chance to be 'celebrity umpire" for the "$12,000 Totally Tennis Exhibition Series" at Palm Aire the past few months. The final event was this past Saturday. Also, spoke at the Young Entrepreneurs of Sarasota on Siesta Key last week. Talked to the group about how to get press and publicity for their companies–as well as the power of using a video for their promotional needs.
(March) In the first three months of 2012, we have produced–or are in the process of producing–over a dozen videos. Good pace!
(February) We've designed ad campaigns and/or produced videos in the past few weeks for Senior Financial Security, Aqua Plumbing & Air, "Always Home", " The Lucky Pelican" restaurant, and the Jewish Housing Council Federation–and we have 3-4 more videos in various stages of development.
(January 2012) Working on a project this month to help a Gulf Coast publication do regular news updates on their website. Traveling to New York as a media consultant for a financial adviser. And best of all–I was inducted into my college radio station's Hall of Fame!
(December 2011) Happy to announce we have four new marketing videos in various stage of production. Also pleased to form a new alliance with Rocket Digital Productions of Sarasota–which allows us to record voice-overs that are then emailed out around the country to clients. Master of Ceremonies for two nonprofit events in December.
(November) Busy time. Guest speaker at the Sarasota Association of Realtors 'Tech Expo.' I had a chance to teach realtors how to use video to sell themselves, and their listings. Had a great time as Master of Ceremonies at a fashion show, and a tennis exhibition for charity. Also took part in charities for "Baby Basics" and "Wine Women and Shoes" at the Ritz Carlton. Glad to support the community.
(October) We just finished the first-ever marketing video for Habitat for Humanity of Sarasota. We helped clear up some of the myths and misconceptions about the agency. I was surprised how much prospective homeowners have to go through in order to be considered. Also this month, hosting a fashion show for charity at Serendipity and reluctantly modeling in another show as well–which is always awkward!
(September) The power of "twos" this month: Two media training clients, two resorts visited on the east coast for Totally Tennis Magazine, two days spent at the United States Professional Tennis Association annual conference near Tampa, and two marketing videos in various stages of development for Sarasota area non-profits.
(August) I'm fortunate to be chosen as a judge in a competition that encourages young filmmakers. http://viralfilmproject.com/?page_id=134
(July) Guest speaker at the annual conference of the Florida Government Communicators Association. We used cameras to put spokespeople from around the state on the spot, and then immediately review the results.
(June) Ray Collins Media helped produce the Major League Baseball draft in Bradenton. The Pittsburgh Pirates had the top overall pick in the draft, and the MLB network wanted to do 'live shots' from Pirate City.
(May) I was a Media Trainer at the Florida State Health Conference. Media Relations experts from around the state were on hand. Also, was pleased to be included in the 2011 Class of the Florida Gulf Coast Leadership Institute. Stimulating discussion with interesting people. http://roimedia.us/?p=1057
(April) The Loveland Center for Adults with Developmental Disabilities has ordered a 4th marketing video from Ray Collins Media. This one will focus on plans for on-campus housing at the Venice, FL facility.
(March) The Sarasota Film Festival has chosen Ray Collins Media to be the festival's exclusive media crew of this year's event. We will attend all the functions and interview the stars and record Red Carpet arrivals.
(February) Producing a marketing video for a Venice-based company, "Purpose Insurance."
(January 2011) Projects this month include writing and "voicing" an audio disc for a financial planner who specializes in helping parents with special needs children, an insurance executive looking for a DVD promoting his company, and helping market a former NFL player as a sportscaster.
(December 2010) Busy end of the year, directing media relations and helping hire new workers for the new Sanborn Studios, producing marketing videos for clients looking to enhance their marketing profile, teaching politicians media skills, hosting "Sarasota County Weekly", writing articles for Totally Tennis, Florida Tennis and Scene magazines. There is a big world out there well beyond the increasingly irrelevent hamster-wheel known as local TV news.
(November) Working with Sanborn Studios as they launch a major movie/tv production studio in Sarasota. Helping with media relations, screening incoming projects and working on their first TV series, "Miami 24/7."
(October) Can't complain as we near the first anniversary of Ray Collins Media: Hosting a weekly show for Sarasota County about good things going on in the area, producing videos–including one this week for a political candidate, teaching media skills, and visiting resorts and writing about them in a monthly travel column for a tennis magazine.
(September) "The Image Consultant Training Manual" has been published. I'm one of five authors. Thanks to Andrew Neitlich for putting it together.
(August) Our media/image skills services got a nice boost today thanks to WIBC Radio in Indianapolis. I was a guest on their afternoon drive radio show, talking about how the police there should get out in front of a scandal and keep the public informed about their internal investigation.
(July) The Loveland Center liked the video we did for them enough to order three more videos about different aspects of their services for disabled adults. They also asked me to serve on their Board of Directors.
(June) I was approached to help write a book on media/image skills with three other professionals. The folks behind this project have a proven track record and several of their other books have done well. www.instituteforimageconsulting.com.
(May) I'm going to be the auctioneer at the Dick Vitale 5th Annual Cancer Fundraiser at the Ritz Carlton. He packs in dozens of household names from world of sports. They've raised a million dollars in a single night during each of the previous four galas! No pressure.
(April) I'm really enjoying hosting the weekly show for Sarasota County. It's a nice break from 25 years of covering gloom and doom. I recently had a chance to do a feature story on a local tennis-playing family where the mother is the coach and her daughter is the best player on her high school team. If you get a chance, look at this 2 minute story:
(March) Our weekly TV news-magazine show received front-page/local section publicity today in the Sarasota Herald-Tribune. Here's a link to the article and pictures. http://www.heraldtribune.com/article/20100329/ARTICLE/3291039/2066/NEWS?Title=With-tax-dollars-counties-offering-a-voice-on-cable
*(March) I'm fortunate to be master of ceremonies/auctioneer for a couple black-tie fundraisers in April. "An Affair to Remember" is sponsored by the Historic Spanish Point. And later in the month, I'll be on the mic for the famous "Cattle Barons Ball." Love helping raise funds for worthy causes–and getting to eat free shrimp. Our first weekly newscast is airing right now! The staff at Access Sarasota really do a great job. (Update: There's a link to shows in the "On Air" tab of my web-site here.)
(Feb) Working on a marketing DVD for 'The Loveland Center' of Venice. It's a great place that helps adults with developmental disabilities live their lives to the fullest. I've already hired the narrator.(!)
(January 2010) I'm going to be hosting a new half-hour TV show, "Sarasota County Weekly." It's set to debut in March and air several times a week.
(December 2009) One of the best parts of doing documentaries on PBS instead of short stories on commercial TV is the stories I can cover. I'm really excited about this current project involving Greg Simony, a guy who decided to make big changes in his life earlier this year. He stopped drinking, lost a lot of weight and began running. But he didn't want it to be about him. So he found Nadia, a woman in a wheelchair with cerebral palsy. He now pushes her when he runs. (See picture under the documentaries category.) He's working on a way to pull her when he bikes–and float her behind him when he swims! You should see her light up when Greg arrives for their work-outs! (Update: There is a link to the story under the "On-Air" tab.) *Happy to report I'm writing a monthly feature for "Scene Magazine." *Here are a couple stories I did for Fox 13 News–one about daredevils in Sarasota, and another one about a family displaced by Hurricane Katrina–and the sentimental graduation in Sarasota for their special needs son. http://swfl.easterseals.com/site/PageServer?pagename=FLSW_LukeDiLeo http://www.filmsarasota.com/news-archive/?id=33