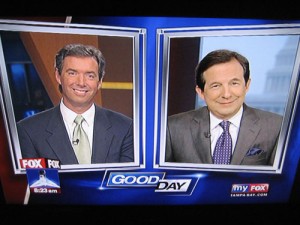 Ray Collins is an award-winning journalist who is using his 30+ years in the media to create content and help others tell their stories and ultimately enhance their profits.
He is also a licensed Realtor in Florida and has received statewide attention for his marketing videos.
Since 2009, Ray has produced dozens of videos, written more than a hundred published articles and continues to help secure media attention for clients around the country. Ray is simply creating content for clients and getting them better 'internet search results' though articles, videos and social media posts.
Ray has been on TV nearly every day for most of the past three decades. The Florida Associated Press honored with him the award of "Individual Achievement for Overall Excellence."
Ray was born and raised in Buffalo, the youngest of six children. His high school, St. Joseph's Collegiate Institute, inducted him into its Wall of Honor. His college, St. Bonaventure University, inducted into the campus radio station's Hall of Fame.
Ray began his career as a DJ, News Anchor and Talk-Show Host at WRNJ Radio in New Jersey before heading south to join one of the top talk-radio stations in the country. At Newsradio 970 WFLA in Tampa, Ray anchored hourly news updates, covered major-league sports and filled-in–and buckled-up–as Airborne Traffic Reporter.
Ray went even farther south to begin his TV career–to Ft. Myers/Naples in Southwest Florida: He started as Morning Anchor at WBBH-TV and later helped launch a news department and 10pm newscast at WNPL-TV. He hired and managed the staff, handled budgets and anchored the nightly news. During this time, he also was the Florida Correspondent for "Tennis TV" on the Prime Network covering pro tournaments around the state.
Ray then had the rare opportunity to return to the station at which he interned in high school. He headed back north to WIVB-TV in Buffalo to anchor the start-up Wake Up! show, which went on to win an Emmy nomination. While there, he also accompanied the Niagara Falls Air Force Reserves to deliver relief supplies to victims of Hurricane Mitch in Honduras…went to Toronto to cover the making of a movie…and developed a popular weekly series honoring unsung heroes called "Rays of Hope."
Ray was then recruited to anchor the 5, 6 & 11pm news for WTVR-TV in Richmond. Outside the studio, he covered Ground Zero in New York…a Richmond-based case in the U.S. Supreme Court…and the Virginia Tech Hokies' national championship game at the Sugar Bowl in New Orleans. He was also active in political reporting–covering a Presidential debate in North Carolina, the Inauguration of President George W. Bush, and was a panelist on two nationally-televised debates on C*SPAN. Ray was also a frequent guest host on WRVA-AM in Richmond and WMAL-AM in Washington, DC.
Ray returned to Florida to anchor "Good Day Tampa Bay Weekends" for Fox 13 News and manage the Sarasota/Bradenton Bureau. He chronicled the explosive growth of the region–followed by the subsequent 'bursting bubble,' and the start of the Great Recession which destroyed the local economy.
It was at this time he launched Ray Collins Media and also began freelancing for WWSB-TV in Sarasota–which soon lead to anchoring "Good Morning Suncoast." He was sent to Cleveland to report 'live' from the Republican National Convention… to Washington, DC to cover a group of local veterans who visited the World War II National Memorial as part of the Honor Flight…and to New York City to report 'live' on a nationally-televised daredevil stunt in Times Square by local resident Nik Wallenda. Ray won an Associated Press award for his investigation into a Sarasota City Commissioner.
Ray–and, who he calls his better half, Erin–live in downtown Sarasota and stay active playing tennis, bike-riding to the beach and traveling each month to write resort reviews for Family Beautiful Magazine. He is a busy master of ceremonies/auctioneer for local nonprofits and is the longtime "Voice" of the Sarasota Open (pro tennis tournament). 'Totally Tennis Magazine' honored him in its 'virtual' Hall of Fame for his contributions to the Sarasota tennis community and Play Sarasota Magazine listed Ray as one of the most influential people in local tennis. He has served on several boards and committees and was two-time President of the Florida Broadcasters Club. He collaborated with the Center for Executive Coaching to co-author "The Image Consultant Training Manual" and continues to tutor political candidates, executives and others with image and media skills. Ray graduated from the Gulf Coast Leadership Institute and the Human Performance Institute for Corporate Athlete Performance in Orlando.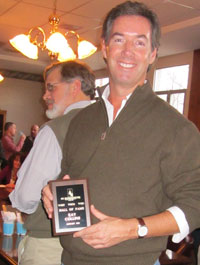 Ray's "Fifteen Minutes of Fame" (below) involved this video where he hit a trick shot over the world's #1 tennis player: