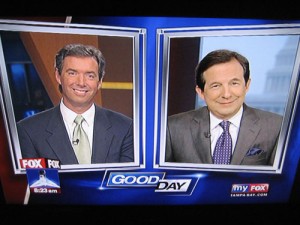 Ray Collins is an award-winning journalist who is using his 30+ years in the media to help others tell their stories and enhance their profits–whether it be Corporate America, a nonprofit group or an individual.
Ray has been inducted into two halls of fame, received awards from the Associated Press–including for "Individual Achievement for Overall Excellence," and has grown this media company since 2009 with over a hundred videos, published articles, and media placement for clients around the country.
Most recently, Ray also anchored the news for WWSB-TV in Sarasota–where he traveled to New York, Washington and Cleveland for assignments. In 2016, he won the Florida AP award for "Best General Assignment Story" for an investigation into a Sarasota City Commissioner.
https://www.youtube.com/wathttps://www.youtube.com/watch?v=qbq_c2eAbLk&t=78s
Prior to joining ABC 7, Ray was co-host of "Good Day Tampa Bay Weekends" and the Sarasota Bureau Chief for Fox 13 News.
Before that, he was Main Anchor at WTVR-TV in Richmond, Virginia, anchoring the 5, 6, and 11pm news. He went on the 2000 Presidential campaign trail, interviewing the candidates, covering a debate in North Carolina and the subsequent inauguration on Capitol Hill. He also appeared nationwide on C*SPAN as a panelist for Gubernatorial and U.S. Senate debates. His reporting took him to Ground Zero, inside the U.S. Supreme Court and the Sugar Bowl in New Orleans. Ray was a frequent guest host on WMAL-AM in Washington, DC and WRVA-AM in Richmond.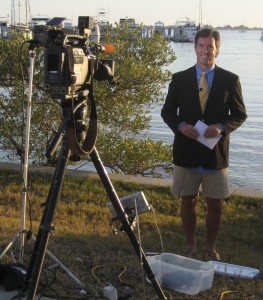 Previously, Ray returned to his hometown of Buffalo where he anchored the morning and noon news on WIVB-TV. He produced a weekly feature ("Rays of Hope") honoring unsung heroes in the community, flew with the Niagara Falls military reserves to deliver relief supplies to survivors of Hurricane Mitch in Honduras, and covered a movie production in Toronto that had a Buffalo connection.
Ray was News Director and Main Anchor of a start-up newscast, WNPL-TV, in Ft. Myers/Naples where he had the opportunity to hire an entire staff and launch a newscast from scratch.
He began his TV career at WBBH-TV in Ft. Myers/Naples as the morning anchor. He won the AP award of Best Reporter in 1993.
Before getting in TV, Ray anchored the news and sports for Newsradio 970 WFLA in Tampa–covering the Buccaneers' home games and filled-in doing "airborne traffic."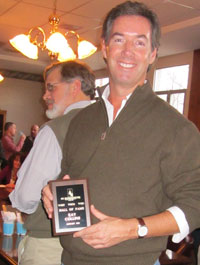 Ray graduated from St. Bonaventure University in upstate New York. He spent a semester interning for Tribune Media Services covering the White House, Capitol Hill and the Pentagon. (Picture: In 2012, Ray was inducted into St. Bonaventure radio station's "Hall of Fame." ) In 2016, his high school, St. Joseph's Collegiate Institute, inducted him onto the "Wall of Honor."
Ray was two-time President of the Broadcasters Club of Florida, and has served on several boards and committees. He's also a frequent master of ceremonies for local nonprofits and is the "Voice" of the Sarasota Open pro tennis tournament.
Ray co-authored a book called "The Image Consultant's Training Manual." He was a featured speaker at the Florida Government Communicators Association annual conference, a media trainer for the Florida State Health Association annual conference and a two-time speaker for the Sarasota Civic League's "Candidate's Boot Camp." Ray is also a graduate of the Gulf Coast Community Foundation's "Leadership Institute."
Ray's other passion is tennis. He's produced tennis features for a national sport network, written about dozens of tennis resorts for various magazines, and attended certification seminars at the Human Performance Institute for Sports Psychology in Orlando and IMG Academy in Bradenton. Totally Tennis Magazine named him one of the most influential people in local tennis. But his 15 minutes of fame involved this video below where he hit a trick shot over the world's #1 tennis player: