Do you want to enhance your business presence and increase profits? Ray Collins is a Sarasota-based award-winning journalist who can help tell your story through a variety or methods:

Video Marketing • Social Media Assistance * Press & Publicity * Media & Image Skills Training • Freelance Writing • "This Is Your Life" Tribute Videos * Travel Writing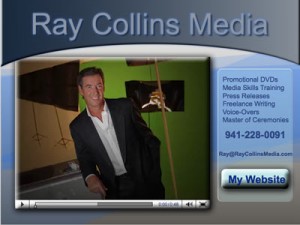 (Click on box to the right:)
"Ray Collins produced a compelling video for us that left us in tears. He did a professional job as our master of ceremonies. He can help your company or nonprofit as well." –Bruce & Sandi Chapnick, Founders, "Josh Provides Epilepsy Assistance Foundation"
"I couldn't be happier." –Howard Moore, Program Director of Saddlebrook Tennis, after seeing the video produced for his resort by Ray Collins Media
"We are very pleased with the video Ray Collins produced for Habitat for Humanity. He was a pleasure to work with during the entire process." -Renee Syler, Executive Director, Habitat for Humanity of Sarasota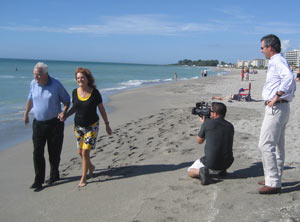 Host, Promoter, Video Producer: "I produce events across the country and Ray Collins is among the finest 'hosts' you can find. Ray's pre-event media relations, use of social media and post-event video work are an added bonus."-Mark Macler, Skyland Events
"You took our annual event up to the next level." –Allison Davis, Founder, Buddy Up Sarasota for Down Syndrome
CRISIS COMMUNICATIONS: "I felt good after meeting with Ray Collins. His price was excellent for the consultation he gave me and he lifted a burden for me." – Gayle Luper, Owner, Anna Maria Island Bungalow Beach Resort & Siesta Key Bungalows
PUBLIC SPEAKING: "Ray Collins not only helped me write and deliver a powerful speech for an important event in my professional life, he also has made me a better overall communicator." -Dr. Chris Gelvin, Sarasota Physician

MASTER OF CEREMONIES: "We have used Ray Collins many times as a host or auctioneer. He adds polish to each event. Ray is professional, funny and well-received. We also hired him to produce four videos." –Carl Penxa, CEO, The Loveland Center
FREELANCE WRITING: "Ray Collins is an excellent writer. His monthly travel column 'One Tank Trips' –where he reviews resorts–is one of our most popular features." –Bob Luxembourg, Publisher, Totally Tennis Magazine
"Ray Collins is one of the true consummate professionals in Sarasota." –Charles Meyer, Sarasota County Film & Entertainment Office, "TV ME!"Director
Ray Collins Media produces marketing and promotional videos for corporate, nonprofit and individual clients. Clients can use the finished product on their websites, on social media and as a link within the default signature of all their emails.
Anyone can buy a camera and shoot a video with a lot of quick edits and techno music–but they don't know how to write, narrate and tell your story. And anyone can hang a public relations sign outside their door, but they haven't spent a lifetime IN the media, knowing how stories are chosen.
For video production, media training, press & publicity, social media assistance, crisis communications, public speaking, freelance writing, or a 'This Is Your Life' tribute, contact Ray Collins today. (RayCollinsMedia@gmail.com)